MSE MICROBIAL DRENCH
(Available in either gallon or quart containers)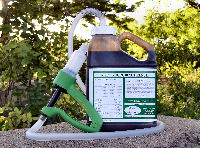 MSE Drench is basically a liquid version of MSE Paste. However, MSE Drench does not contain pectin, which is in MSE Paste. Pectin controls diarrhea or loose stools. MSE Drench is meant to be given to sick or stressed animals, or as a preventative before, during or after stressful activities. These activities include birth, lactation, weaning, processing, vaccination, castration, dehorning, branding, shearing, transportation, and showing. MSE Drench can be given either with a syringe. MSE Drench contains much higher levels of the same organisms found in other MSE products, plus many vitamins.

Recommended dosage

Animals of all species under 100 lb. 5 cc minimum/day

Animals over 100 lb. 5 cc/100 lb./day (1 cc/20 lb./day).

NOTE! All animals should be brought up to the full dose SLOWLY, preferably over a two week period. Start with a much smaller dose (as in 1 cc for cria and 1 - 2 cc for adults) and work up unless the animal is in danger of dying.
MSE drench can either be given orally (by applicator or syringe) for animals that are not eating, or mixed with feed, if they are. The high vitamin content can make MSE Drench unpalatable to some animals if mixed with feed. In that case, start with one or two cc and gradually work up to the full dose. All sick animals should be dosed orally.

Ingredients
Dried Aspergillus oryzae fermentation products, Saccharomyces cerevisae, Lactobacillus acidophilus, Lactobacillus casei, Bacillus subtilis, Aspergillus niger, Streptococcus faecium, citric acid, D-glucose, vitamin A acetate, deactivated animal sterol, (source of vitamin D3), DL-alpha-tocopherol acetate (vitamin E), menadione dimethylpyriminol bisulfate (vitamin K), B12 supplement, yucca shidigera extract, cane molasses, biotin, thiamine mononitrate, pyridoxine hydrochloride, d-calcium pantothenate, ascorbic acid, chicory.

For more information, please visit our website (http://www.naturs-way.com), contact Lark Burnham, Ph.D., Ruminant Nutritionist, at:lark@naturs-way.com, or call Natur s Way at (785)486-9557 of (800)615-0299.
To see a comparison of MSE paste and drench and other popular probiotics, click here Probiotics comparison
MSE Drench is made in Horton, Kansas, U. S. A.